The '80s were halcyon days for synthesizers lovers. Still, keyboardists weren't the only ones to benefit—the era was a goldmine for guitarists. As the Sunset Strip churned out shredders battling to outflash each other, something was bubbling beneath the surface. Helmed by Eddie Van Halen, a new persona emerged: guitar hero meets keyboard icon.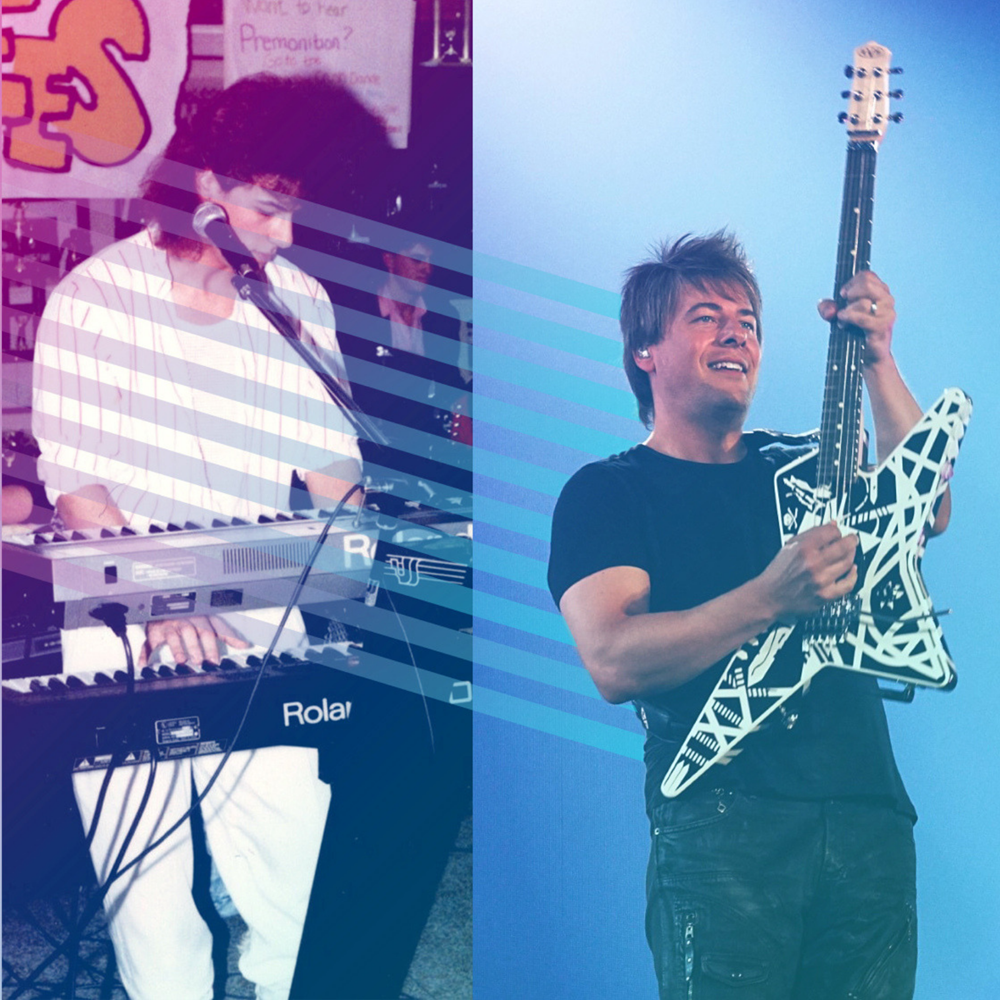 Paul Sidoti came of age during this age of big hair and bigger hooks. Like key influence EVH, he's as comfortable rocking a JX-8P joystick as milking a double stop bend. Sidoti is the real-deal: a multi-instrumentalist with incredible guitar, keyboard, and vocal chops. He's also had the kind of slow-burn career trajectory that makes for a modest brand of rock star. Sidoti paid his dues the old-fashioned way—playing his heart out.
Since December 2007, Sidoti has served as lead guitarist/vocalist for Taylor Swift, both live and in the studio. His role as Swift's longtime six-string foil follows sidework with Eric Carmen's power-pop combo, the Raspberries, and six years with '60s hitmakers Gary Lewis and the Playboys. Sidoti has also lent his skills to Alan White of Yes, Bryan White, Eddie Money, Debbie Gibson, and Hootie and The Blowfish.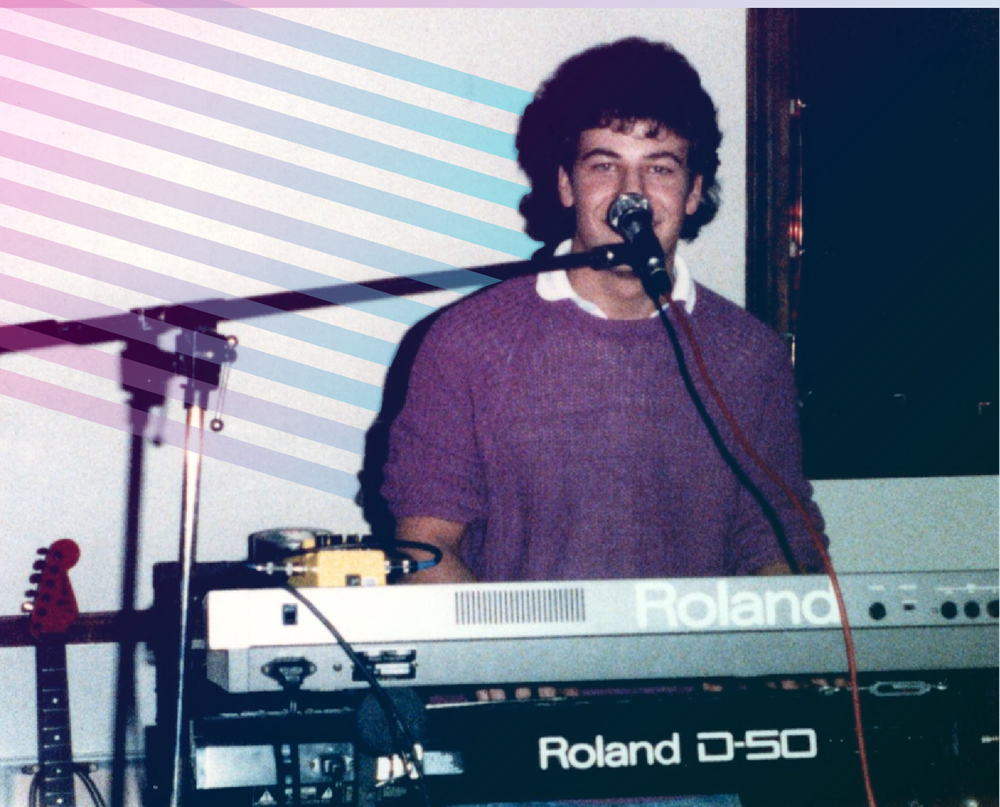 In conversation, Sidoti displays the kind of innocent, infectious energy he exudes onstage with Swift and others. Whether sharing the story of how he got his first JX-8P, effusing about Night Ranger, or giving insights into Nashville's thriving music community, Sidoti is open, warm, and wise.
Roland Cloud is pleased to present this deep conversation with Paul Sidoti, as well as three rare cuts from the artist's 1993 solo record. As a special treat, Sidoti curated a personal playlist of synth-laden tracks, more evidence of his love affair with the epic songcraft of the 1980s.

BIG DREAMS

You're known primarily as a guitarist but have a long history with keyboards as well. Tell us about your relationship with Roland synths. Any Stranger Things-style '80s memories to share?
The first time I saw a Roland synth was 1983—a friend of mine had a JX-3P. My parents purchased my first synth, a JX-8P, in 1985. I'd seen it in Night Ranger's video for "Four in The Morning" and said, "I gotta have that!" We went to a music store, picked up the brochure, and I carried it with me around school. My parents bought it for me for my birthday. It meant the world to me and I still own it.
After getting a job in a music store, I purchased a D-50 in 1987. While working at the store, I'd read the brochures and catalogs all day to familiarize myself to sell the products. I wanted to buy virtually everything Roland made. In 1992, I bought the JD-800, MKS-20, and P-330 modules.
What I love most about Roland keyboards is how big their sounds are. I love the SA piano sounds, the warm pads and strings of the JX series, and the uniqueness of the D-50 and JD-800. The presets alone are great to work with.
The Roland name to me means inspiration and perfection. The sounds are so iconic. Everything you need in a stage piano, synthesizer, or module, Roland has it covered. It brings up the very best of my childhood memories.

You are a true "lifer," someone who has given everything to your craft. Tell us about growing up as a young musician in Cleveland, OH.
I began taking guitar lessons at the age of five and started playing professionally at 12 in an Italian wedding band. I made great money which allowed me to purchase equipment. The first time I performed on stage was my 5th grade talent show, when I played "Jessie's Girl." I sang and played guitar over the top of the record. I'm a Rick Springfield fan and remember rushing home from school to catch the last 20 minutes of General Hospital.
I also formed a rock band with a friend of mine down the street who was 16 years old. He was a great keyboard player who was fond of Loverboy and Foreigner. He'd purchased a JX-3P and could play all the hits plus "Take Me to The Top." I distinctly remember that left-handed key bass part! "Waiting for a Girl Like You" by Foreigner sounded great with that string synth. We had a 3-piece horn section, so we were doing some stuff off Chicago 17—songs like "Along Comes a Woman" and "Hard Habit to Break."


So those were the earliest days. Very few players can claim to have been working musicians at 12, let alone 20. I've also read that you formed a group of your own at a very young age.
After the wedding and horn bands, I formed my first rock band at age 14. The initial incarnation included drums, keys, guitar, and a female vocalist. We got together to perform at our 9th-grade spring choral concert. I had a wonderful band instructor, Alice Rudolph, who really shaped my career. I played saxophone in symphonic band and guitar in jazz band where I was given solo spots. When I came to her with the idea of performing a song with our little rock band, she said, "Absolutely."
I'll never forget how loud it was in that gymnasium. It sounded like thousands of people. We performed "Dress You Up" by Madonna. Here's some insight into how we arranged the song. I played guitar, while the keyboardist played the strings on the JX-8P and programmed two bass lines on another keyboard—one for the verse and one for the chorus. He switched between the two patterns while playing the other part with his right hand. That summer, I transitioned from junior high to high school and found a different bass player, drummer, and vocalist from the school across town.

I had a wonderful band instructor who really shaped my career. I came to her with the idea of performing a song with our little rock band. I'll never forget how loud it was in that gymnasium. It sounded like thousands of people.
What an amazing time to be cutting your teeth. What was that band like?
We played all the hits of the day: Journey, Night Ranger, Huey Lewis and The News, Bryan Adams, Rick Springfield, Madonna, etc. There was so much great music that came from the mid-'80s. We played in a clubhouse at a neighborhood pool, a Halloween party, and at friends' houses.
The first demo tape I made was with the keyboard player and drummer. We recorded "Walking on a Thin Line" by Huey Lewis and The News. The bass player never showed up, so I ended up playing bass as well as doing the guitars and vocals. There was another incarnation of the band that closed out my high school years. I was always trying to improve and find musicians that were as ambitious as I was.

Any other cool stories from that musical period you'd like to share?

At the start of my senior year in the fall of 1988, I decided to record a couple of my originals in a big studio in downtown Cleveland. I wanted a professional demo tape of our band so we went in to track it. I was now playing keyboards in the group and was laying down my parts. I sat with the engineer and before I played my part he explained that we were going to be using a computer with software called Performer. It was a little monochrome Mac and he said that if I made a mistake not to worry that he could fix it because we were just inputting MIDI information.
When I got done with the pass, he said that there was one note and he showed me, scrolled to the section and removed it. He showed me how to quantize to tighten it up and to smooth out the velocities. Turned out the engineer's name was Trent Reznor. He told me about this new album he was making on spec during hours when the studio wasn't active. That turned into Nine Inch Nails' Pretty Hate Machine. He taught me so much over the course of those couple days and soon after I bought Performer and a small Mac. At the end of the session, he said, "Love your keyboard part. Catchy tune."
BIG TOWN AND BIG BREAKS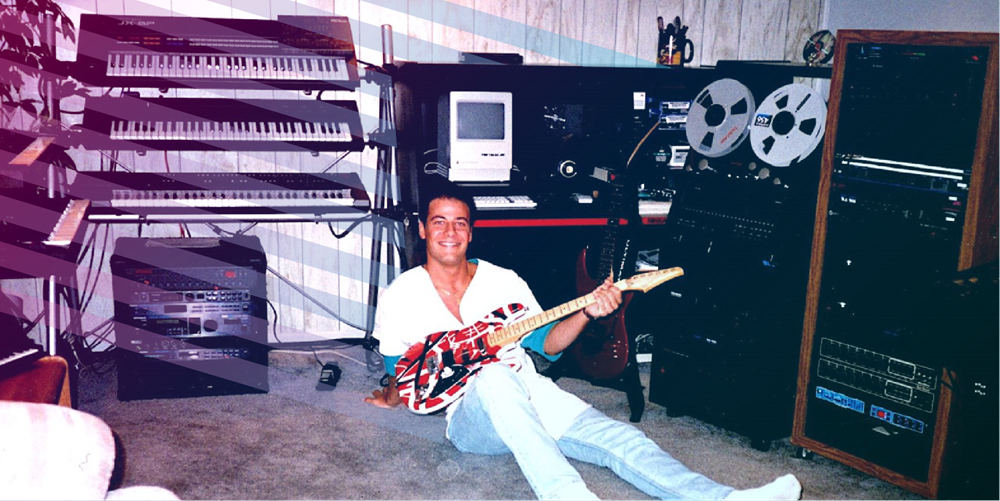 Nashville, your current hometown, is a city with a legendary music scene. Did you do a lot of co-writing before you started playing with big acts?
When I first moved here in the fall of 2000, I didn't know anyone. It was very difficult to get into the circle because it's very competitive. The music scene has exploded with all different styles. You can go down to Broadway and hear virtually anything from '50s country to what's currently on the radio.
I've mostly written by myself. Sometimes I'll build a track with full production or just record a guitar/vocal voice memo. I've written with Bryan White who had many hits as an artist in the '90s and is best known for his duet with Shania Twain, "From This Moment On." I've also written with Stephanie Bentley ("Breathe" by Faith Hill and "Concrete Angel" by Martina McBride), and others.
From power-pop to country, you have quite the stylistic resume. It must have been a unique experience playing with Gary Lewis and the Playboys.
The gig with Gary Lewis and The Playboys was interesting. I'd never heard of him or his music. I was 21 years old living in my hometown of Cleveland, OH. On Thursday nights, there was a musicians' jam at a restaurant not far from my house. One night, I decided to go.
There was a small area in the back where a duo set up in a booth area after taking the tables out. They used one 15" cabinet for a PA and ran everything direct. A guitarist and keyboard player played along with drum and bass sequences. There was a beat-up drum kit in the corner and a bass guitar.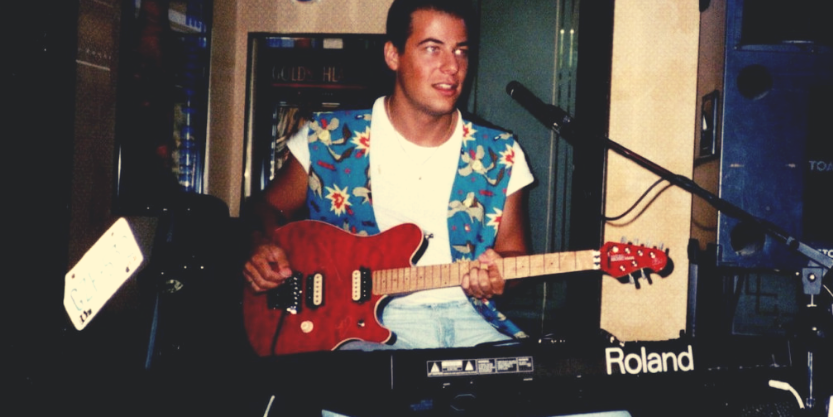 After they finished the first set, there was an open jam. They asked if there were any bass players in the house, so I went up. We played a few songs like "Take It Easy" by the Eagles. Unbeknownst to me, two members of Gary's band noticed me. Before I left, they introduced themselves and asked me to stay. The guys called off two obscure '60s songs: "More Today Than Yesterday" by Spiral Staircase and "Temptation Eyes" by The Grass Roots. They told me the key of the song, and that was it.

They didn't know I played guitar and keyboards. After they started, I could sort of figure where the groove of the song was. I'd look at the keyboard player's left hand for a bass line or the guitarist for a chord change. They were surprised at the end, but when I told them I played guitar and keyboards they understood. Shortly thereafter, I replaced the bassist and toured with them from 1993-99.
So that led to a long-term gig with the band. Would you share some standout experiences from that period?
My first show was in front of Gary's dad, Jerry Lewis, the legendary comedian. I'll never forget playing at the old Aladdin in Las Vegas. Everyone was high fiving me before the show while we were behind the curtain. I had no idea he was even there. As soon as it opened, there was Jerry in the front row doing his Nutty Professor-faces trying to crack us up. I met him afterward. It was an honor to be in the presence of entertainment royalty. We performed on his MDA telethons a few times.
My first show with Gary Lewis and the Playboys was in front of his dad, Jerry Lewis, the legendary comedian. It was an honor to be in the presence of entertainment royalty.
There are so many great stories from that time. Since Gary had the most hits of the artists we toured with, he typically headlined. We learned the material of the other acts on the show who didn't carry their own band. This made it easier for everyone and a lot more fun. Soundchecks were quicker and the acts would just hand us their setlist for the night.
You also had a signifigant role playing with Eric Carmen and the Raspberries. Did Carmen's songs influence you growing up?


Like the Gary Lewis gig, I was unaware of the Raspberries even though I was from Cleveland. I did remember Eric Carmen for "Hungry Eyes" and "Make Me Lose Control." Those were big radio songs when I was in high school. In 1999, I played in a cover band with the original drummer of the Raspberries. This led to Eric doing a "Storytellers" show at the Rock and Roll Hall of Fame in 2000 where he assembled a backing band to perform some of his hits. In 2004, House of Blues asked the Raspberries to open their new club in Cleveland.

The original band reunited, and they wanted to fill out the sound with supplemental musicians and vocalists. I was hired to play most of the keyboard and extra guitar parts, and one of three background vocalists. They only planned on doing that one show, but it went so well that it led to others. I think we did close to a dozen before it ended in 2007.

BIG SOUNDS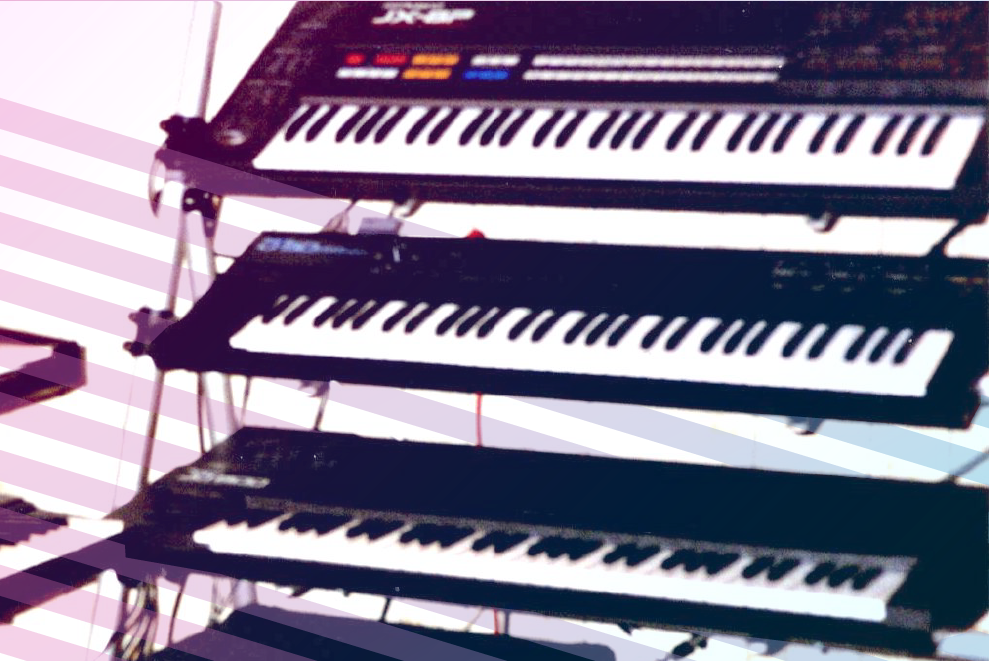 What synth songs and artists left an impression on you as a young person?
There are so many! I can say without a doubt "Jump" by Van Halen started it off. I remember working in a music store as a teenager, not long after it came out. Every keyboard player would find a polysynth patch and start playing it. All the keyboard songs by Van Halen are favorites of mine, especially "Dreams" and "Love Walks In." I programmed a patch on my JX-8P that's still in there called "Love Walks In." The "Touch Sync" patch sounded like "Why Can't This Be Love?"
I loved all the David Foster stuff. He's a big inspiration to me and the main reason I taught myself piano. All the Chicago material but it was his solo albums that I gravitated to. "The Power Of Love" by Huey Lewis and The News with those horn stabs. "Separate Ways" by Journey. All the Loverboy stuff. The list goes on and on.

I can say without a doubt "Jump" by Van Halen started it off. I remember working in a music store when I was a teenager not long after that came out and every keyboard player would find a polysynth patch and start playing it.
Considering your rich history with Roland gear, what does Roland Cloud bring to the table for you?
Roland Cloud is such a gamechanger. I can't tell you how inspiring it is to have all these classic synths and sounds at my fingertips, especially hearing the JX-3P and D-50 again. They bring me right back to my high school years and the excitement I had creating with those amazing tools.
The JUPITER-8 is incredible. It would cost a small fortune to obtain a real one and the sounds that are in Roland Cloud are so accurate. The JUNO-106 is another great one. To be able to access the huge libraries of sounds so quickly makes creating so much easier.

Roland Cloud is such a gamechanger. I can't tell you how inspiring it is to have all of these classic synths and sounds at my fingertips. They bring me right back to my high school years and the excitement I had creating with those amazing tools.

We're thrilled to share these three tracks from your 1993 solo record. Any thoughts of doing another solo album or a band project of some kind in the future?
I recorded an adult contemporary solo record in 1993. My arsenal of Roland keyboards and modules are all over it. I've done original shows over the years. One of my favorites was opening for Deana Carter at House of Blues in Cleveland in 2005. The original lineup of the Raspberries backed me up on one of my songs which was a thrill. I'm constantly writing and recording and have material to release. I'll put it out when the time is right.

What does the Roland name mean to you and does it conjure any memories?
The Roland name to me means inspiration and perfection. From acoustic to digital pianos, string and orchestral sounds, lush pads, bells, the groundbreaking synthesis found in synths such as the D-50 and JD-800, to the great drum machines, the sounds are so iconic. Everything you need in a stage piano, synthesizer or module, Roland has it covered. It brings up the very best of my childhood memories.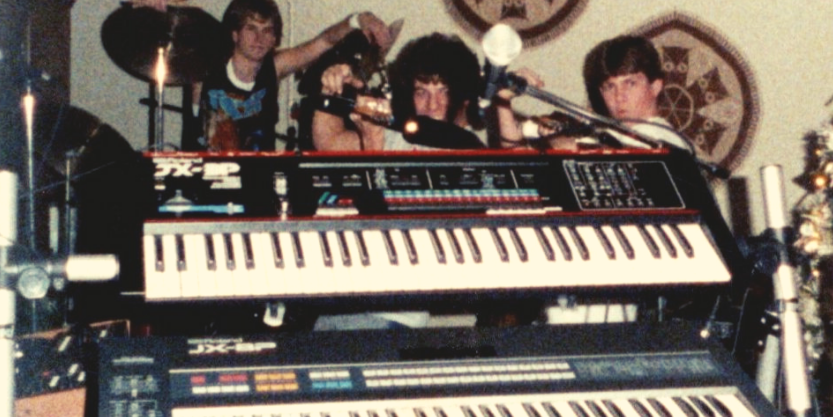 I remember when the Roland rep came into our store with the first shipment of gear for 1987. I saw a stack of D-50s, and opened a box to set one up. It was like Christmas. I couldn't stop playing it, so I saved up and bought one. I did the same thing with the JD-800, which is probably my all-time favorite synth. I bought an MKS-20 and P-330 because I loved the SA piano sounds.

In my late teens and early 20s, I used all of these keyboards to create sequences for my cover gigs. I got my first musical director gig at a resort when I was 19. Having them was part of the reason I got that job. The Roland name brings back great memories of being in my home studio for hours on end writing, creating, and recording covers and original material.

BIG TIME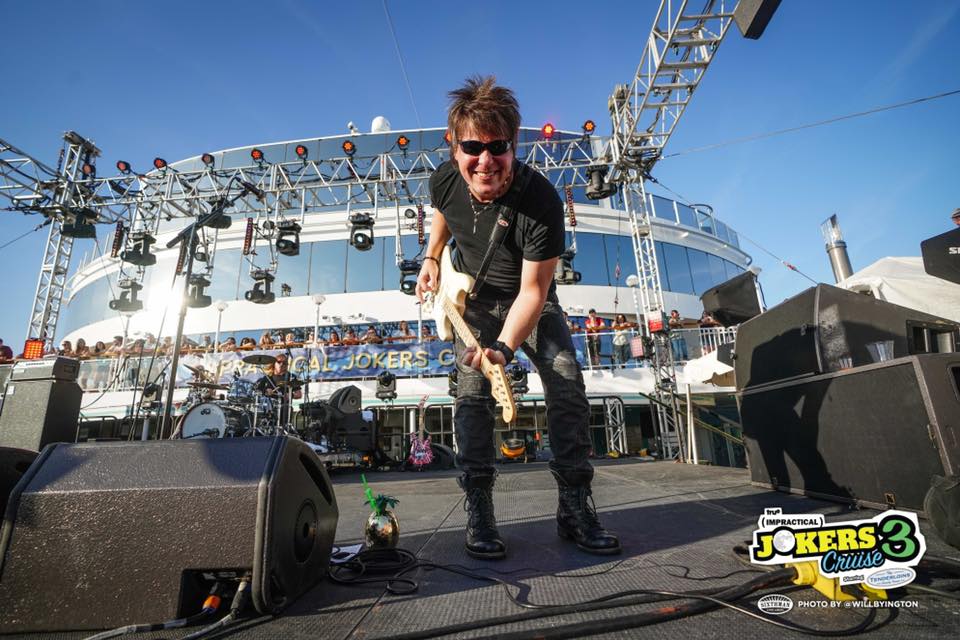 From your session work over the years, do any particular artists stand out?
Session work is a lot of fun. I was fortunate to play on a couple of albums that sold over five million copies which was very cool. I've done some stuff with my friend Bryan White and the Raspberries put out two live records that I'm on. Most recently, I got to record on a bunch of songs for one of my childhood idols: Debbie Gibson. I played all the guitars on her current single, "Girls Night Out." That was so much fun. To be in the studio with her was so inspiring. She is immensely talented and a blast to be around.

Rumor has it you're a big KISS fan and that you got a phone call from Paul Stanley as a birthday surprise. Truth or fiction?
Partially true. It was actually Gene Simmons. I worked for KISS in 1998 on their Psycho Circus tour so over the years I have been lucky enough to get to know them a bit. In 2009, while on tour, he called to wish me a happy birthday. They're my all-time favorite band. It's great when your heroes live up to everything and more.

GEAR LIST
CURRENT: Roland Cloud
VINTAGE: JD-800, JX-3P, JX-8P, D-50, MKS-20, P-330, JC-160,
JC-120, BOSS ME-6, BOSS GR-55

Photos Courtesy of the Artist