Like another lyrical master, Bob Dylan, Otis Calvin III, also known as OCnotes, has a freewheeling approach to life, art, and music. Catch OC solo or with Shabazz Palaces (featuring Ishmael Butler of Digable Planets, a fellow creative who also calls Seattle home) and witness a performer who transcends genre boundaries to calmly determine his own trajectory.

OC also lends his unique curatorial voice to KEXP's Sunday Soul, a weekly show spotlighting soulful sounds from the past, present, future, and fringes of the funk. With his trademark staccato laughter punctuating frequently surreal asides, OC shares musical secrets with listeners like a friend with a record collection from heaven. OC took a few moments away from his prolific output to speak with Roland Cloud about his gospel roots and the visual aspects of music-making, among other topics.

In addition, in our exclusive video interview with the artist, OCnotes describes how Ishmael Butler has been a mentor to him, and why we might just be at the beginning of a golden age of soul music.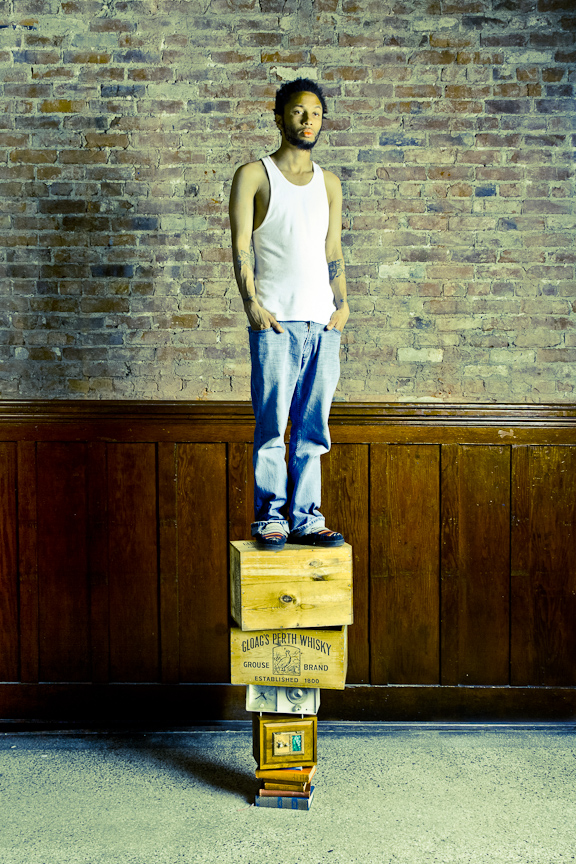 OCnotes (photo provided by the artist)

Your music is an aggregate of eclectic soundscapes, quixotic moods, and enigmatic story telling. Tell us about some of your influences and how your sound has reached its current incarnation.
My first influences were Baptist gospel choir music and my mom's vinyl collection. I moved around a lot as a kid and that had a heavy influence on me without a doubt. Moving around gave me an open mind, gospel music—and the discipline of church—taught me about soul, and skate culture and playing rock-punk music had a heavy influence on me. I do my best to keep an open mind and to listen and study as much music that vibes with me as possible. I learn from things I don't vibe with too, but I spend more time listening to—and learning from—things I enjoy.
When you perform live, do you attempt to emulate your recordings succinctly or does improvisation come into play? What equipment do you use when you perform?
It depends on the song, the show, and the vibe. I definitely improvise at every show. I can't help it. Sometimes I do things exactly like the record, but the fun thing about performing live is being able to flip it. Like Busta said, "Flip mode is the greatest." My equipment is always changing. I usually use Ableton Live, a couple MIDI keyboards and pad controllers, guitar (sometimes), Roland TR-8S, and other random pieces I come across around the world.
Do you have a process when you perform or is each performance its own ecosystem with no prerequisite approach?
The only process I really have is knowing what tracks I'm going to perform when I organize a set. How long they are going to be or how I'm going to perform them is open to change.

I have my sets organized so I can end and begin whenever I want. I can twist them around, make new versions on the fly...then bring it back to where it needs to be...
Are there any up-and-coming artists who inspire you or challenge your expectations?

Definitely. So many cats out here that keep me on my toes. Jerry Paper, Sen Morimoto, Norvis Junior aka Nelson Bandela, Seven Davis Jr, my young homie Fergus, the young homie Brandon, Upendo Moore. Porter Ray & BRoc, Bruce Leroy, Def Dee, Black Spvde, Khris P, AJ Suede. This cat, I don't know if his name is BB Sun or Bolo Nef, but dude goes hard. Mutual Attraction, Frits Wentink. The entire Griselda movement (Conway, Benny the Butcher, Westside Gunn) as well as Roc Marciano.

I'm also in groups where the other members keep me inspired and constantly challenge my expectations: Knife Knights, Indian Agent, and Shabazz Palaces.


What are some of your favorite aspects of Roland Cloud? What are some of your favorite pieces of Roland gear?
I dig the variety of sounds and how accurately they emulate the hardware. I still haven't gotten through everything it has to offer. The sound quality is solid and no matter what style of music or sound you're going for, there are plenty of options to get lost in. I particularly like the Concerto device, the SYSTEM-1, and SYSTEM-8. The JUNO-106 is fresh. SRX ORCHESTRA is incredible. There really isn't one bad instrument.
The JUNO-106 is fresh. SRX ORCHESTRA is incredible. No matter what style of music or sound you're going for, there are plenty of options to get lost in.

Do you compose and perform all of the music on your records? Do you find that collaboration augments or detracts from your vision?
Mostly yes, I compose and perform all of the music on my records. I have a lot of music, so I definitely have collaborative projects. However, the majority of what I do comes through me only. Collaboration can work either way. It depends on so many different factors. I enjoy working alone, but there are also people I work really well with and I enjoy that too. The opposite can be torture.
What are some of the records and/or artists that heavily impacted your style? What was it about those pieces of music and artists that affected you so strongly?
Parliament Funkadelic One Nation Under A Groove—anything George Clinton touched really. They were like crazy rock and roll outer space looking dudes that played the smoothest, funkiest, and sometimes hardest music. It blew my little kid mind. Specifically, the song "Groovallegiance" and, of course, "Atomic Dog."

The entire '90s rap era underground and mainstream influenced me heavily. I grew up during that time and I am a product of it. Madlib was a huge influence. He has his own unique style and sound. James Brown was unreal to me. He was the peak of what a performer or performance could be. Marvin Gaye is huge to me. I named my son after him and his music is perfect. "Here My Dear" is one of the greatest records ever made. Aphex Twin changed my music forever. Deftones, Daedelus…it's a fairly long list.
Your music is steeped in visceral, almost visual universes. Are other types of art catalytic for you when approaching music?

I'm always thinking of visuals when I make music. The music makes the visuals. I can't turn it off.
Be it a video, painting, illustration, performance art, dance routine, or whatever, I always have visual ideas. I usually can't afford the scale of what I want to do so I keep them stashed for when I can. Sometimes I'll be approached by an artist to add music to a film or art piece. That's always fun and helps guide the feeling and vibe with the music.

You have been a mainstay in the Seattle music scene for many years. Can you discuss your involvement with KEXP and how the city has changed over the last decade?
KEXP put out a city-wide call to the public to find a new DJ to host a funk/soul/R&B show on Sunday nights. I got the job. I've been the host of Sunday Soul for almost a year now and it's been amazing. I've got listeners from all around the world and have been able to be involved in the community in ways that I couldn't before.
Over the last decade, a lot of the culture in Seattle has been traded for profits. Venues are gone, legendary hangouts are now condos, everything closes early, police are everywhere. I travel often and that makes it easier for me to not be depressed about the situation. When I'm here I chill with my family and work on music. I have regular DJ gigs at some awesome spots, and I hang out with my loved ones. I don't really mingle too much with regular Seattle. It can get weird sometimes. It's a beautiful place and it has my heart, but I'm not gonna lie and act like it wasn't cooler 10 years ago.
What's next on the horizon for you?

I'll be touring with Knife Knights April through May of 2019. Our record Time Mirage is out now on Sub Pop records. My other group Indian Agent is working on our second full-length LP which will be coming out next year. We've got some big news for that one too, so stay tuned. I'm working with Shabazz Palaces on the next record.


As far as OCnotes projects go, I've got Rap Loops 3 dropping soon, a film I've been working on for several years, and tons of new albums and EPs that I'll be dropping randomly. I have a lot of touring coming up which is most exciting—seeing the world is really a gift.

Follow OCnotes on Spotify and Apple Music to explore his deep catalog.

Photos Courtesy of the Artist