Roland SRX STUDIO: Now Available With Your Roland Cloud Subscription


KEY FEATURES
128 Patches, 12 rhythm sets, and 522 waveforms
Ultra-flexible patch parameters
Manages 128 memories as one bank
Multi-effects with 78 different kinds of effects including Delay, Chorus, Reverb, Flanger, Distortion, and more
CREATE REFINED RECORDINGS AT HOME

In the early 2000s, Roland's SRX series of expansion boards provided an innovative way to invite fresh sounds into your synth. Installed directly into Roland hardware, each board created a tiny genre-centric world of its own. From eclectic world instruments to slamming club beats (celebrated by Roland Cloud's SRX WORLD and SRX DANCE, respectively) the SRX series expanded players' pallets and opened new creative doors. Roland Cloud features many instruments that pay tribute to the spirit of the seminal boards.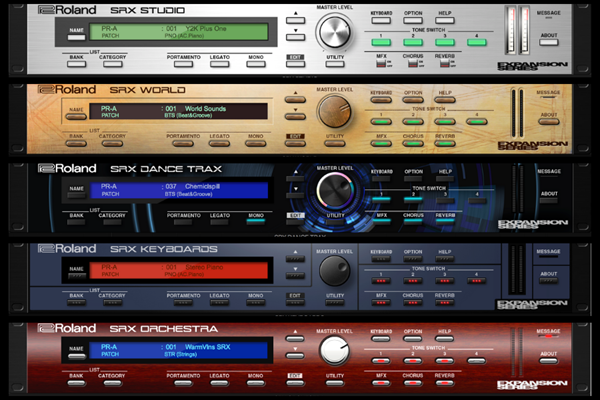 The third entry in the SRX series focused on bringing studio-friendly sounds to users' homes while preserving their natural ambiance. With its versatile set of expressive pianos, crisp nylon-string guitars, and refined wind instruments, the card collected detailed recordings from professional recording environments across the globe.





ENJOY AN ARSENAL FOR THE AURAL AFICIONADO

Part of Roland Cloud's Legendary series, Roland SRX STUDIO features 128 patches, 12 rhythm sets, and 522 waveforms. In addition to more traditional sounds, the eclectic collection also boasts more esoteric fare. Patches like "Ethernal Pad," "Solar Winds," and "Harmonic Sequence" are rendered with warmth and three-dimensional qualities that will enhance your sonic creations.


78 EFFECTS

SRX STUDIO groups 78 wide-ranging multi-effects into convenient categories including FILTER, MODULATION, CHORUS, DYNAMICS, DELAY, LO-FI, PITCH, REVERB, PIANO, and COMBINATION. Jump from "2-Voice Pitch Shifter," "Phonograph," and other standalone effects to combinations like "Distortion/Flanger" and "Enhancer/Chorus." Looking to add some sparkle to a track? Choose from "Tape Echo," "Speaker Simulator," or dozens of other audio manipulation options.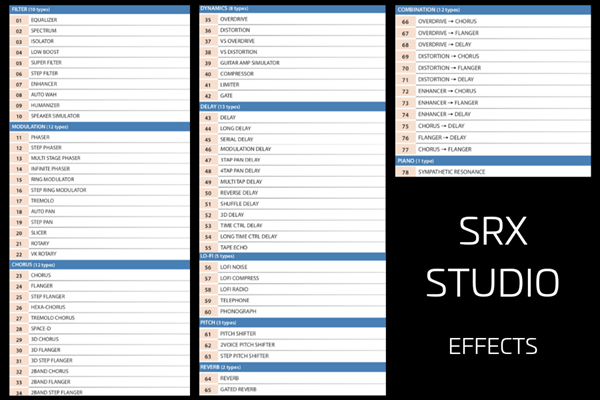 FLEXIBLE PATCH PARAMETERS

Not only is Roland SRX STUDIO packed with immediate sounds to explore, its expansive patch paramaters allow for flexible creation of your own go-to tones. Access STRUCTURE, WAVE GROUP, PITCH, TVF, CUTOFF ENVELOPE, FILTER ENVELOPE, LFO, VELOCITY, KEY RANGE and more. Additionally, SRX STUDIO includes discrete settings for ANALOG FEEL, BOOSTER, and RANDOM PITCH.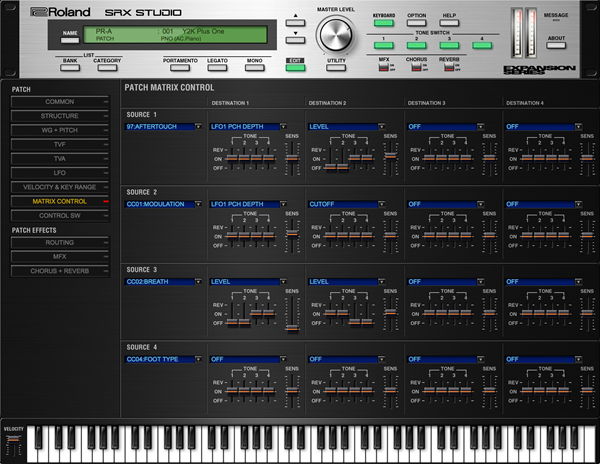 12 KITS

With four studio kits and a host of other genre-specific sounds, Roland SRX STUDIO includes a rich variety of rhythmic tools. Take your pick from Wide Rock, Wide Jazz, Tight Room, 3rd Ballad, Studio 1, Studio 2, Studio 3, Hip Hop, and others.

Denoted by a small symbol at the upper left of the patch name, the dozen unique sets can facilitate the creation of complete tracks while remaining entirely inside the instrument. Alternately, used in conjunction with other Roland Could titles, Roland SRX STUDIO's collection of drum sounds has the power to inject fresh energy into your workflow.

Check out this collection of sound samples by Carlos Felipe of D'LUX Private Reserve for examples of Roland SRX STUDIO's drum patches.



ACHIEVE STUDIO SYNCHRONICITY

Created in the spirit of its seminal hardware board counterpart, Roland SRX STUDIO is jam-packed with crystalline tones to bring a new level of clarity to your tracks. These instruments are ornate, presented with stellar definition, and will make your performances gleam with polished professionalism.


All sounds above created using Roland SRX STUDIO.