Test Drive the TR-707 and TR-727 Software Rhythm Composers for free with a Roland Account until September 30th! Simply log into Roland Cloud Manager and install the TR-707 and TR-727 plugin from your library.*
In 1985 Roland released the now-famous TR-707 and TR-727 Rhythm Composers. Taking their rightful places next to other classic Roland rhythm machines, this dynamic duo of drums and percussion has appeared on hit tracks in a long list of genres, including synth pop, acid house, industrial, electro, indie, alternative, and more. Thanks to our Analog Circuit Behavior (ACB) technology, you can now have the authentic sound and experience of these influential drum machines right inside your DAW—with modern upgrades that take them into all-new territory.
Digital transition.
Before the TR-707 and TR-727, Roland released the now-legendary TR-909, which was developed as an analog-digital hybrid rather than a fully digital device. Memory chips and digital-to-analog converters were costly at the time, so there was concern that an all-digital design would make the product unaffordable for many musicians and would have limited sound shaping options. However, after the TR-909's release, Roland embraced the trend towards digital technology with a pair of rhythm machines that combined sampled sounds with the user-friendly TR interface—newly enhanced with the hands-on immediacy of individual faders.


Orange, blue, or both?
The new digital TR machines were highly anticipated when they hit the market. The TR-707, with its orange livery, had the most advanced pattern sequencing capabilities yet and included 15 punchy drum sounds covering all the basics, from kick and snare to toms and cymbals. Its sibling, the blue-highlighted TR-727, was an all-out percussion powerhouse with 15 Latin-inspired sounds that could take any groove to new heights. Each unit was formidable on its own, but together they were unstoppable.
The sound of vintage digital.
Developed in the mid-1980s, the TR-707 and TR-727 had a 25 kHz, 8-bit (or 6-bit for some tones) sample playback engine that was primitive by today's standards. These low bit rates caused quantization noise during the sound's decay, so non-decaying PCM waveforms were used, with decay introduced later in the analog circuitry. Furthermore, deviations in the clock and the analog circuitry downstream of the D/A converter caused variances in the pitch and decay characteristics. And though the TR-707 and TR-727 lacked the ability to edit sounds, the combination of these factors ultimately led to them being highly sought after for their unique and pleasing lo-fi punch.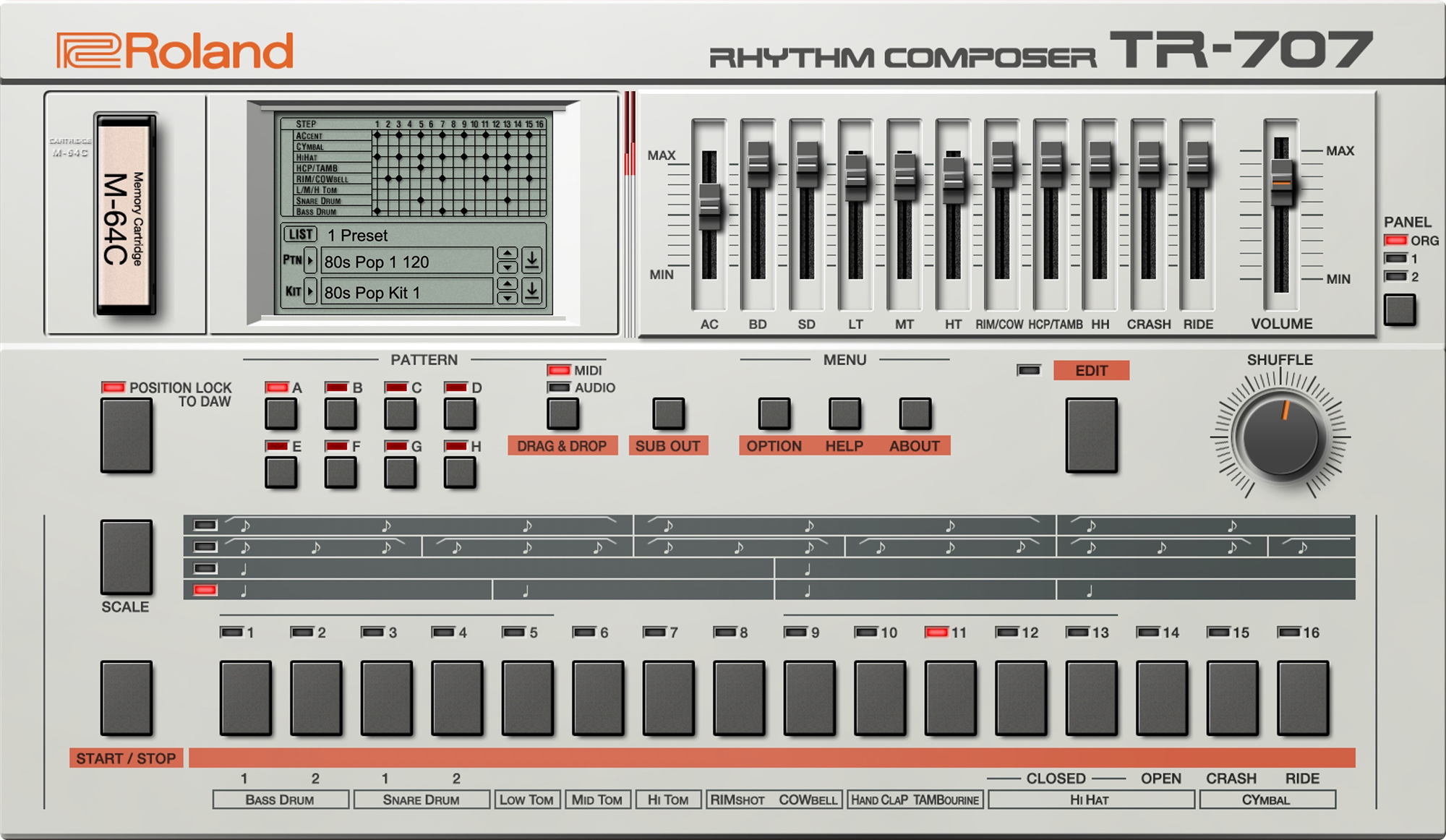 100% authentic sound and behavior.
Even though the TR-707 and TR-727 were primarily digital devices, it's impossible to perfectly capture their unique sound using samples. To replicate these sounds in software, we started with the original PCM wave data found on the classic machines, then used our Analog Circuit Behavior modeling to completely recreate the PCM output stage, carefully including all of its quirks and instabilities. Modeling the analog envelope and amplifier stages that came after the D/A converter allowed us to implement tuning, decay, PCM clock adjustment, and other parameters available in the plugin but not present on the original units.

Sound that goes from vintage to radical.
Taking inspiration from aftermarket modifications, our advanced circuit modeling offers parameters that let you dig under the hood and modify the sound in all manner of ways. You can adjust the Attack of the Bass Drum and the Snappy of the Snare, and every sound has ultra-smooth tuning and decay. You can even overdrive the internal circuitry, tweak how each PCM waveform behaves, and adjust the PCM clock from 6.25 kHz to 100 kHz for some serious sonic mischief.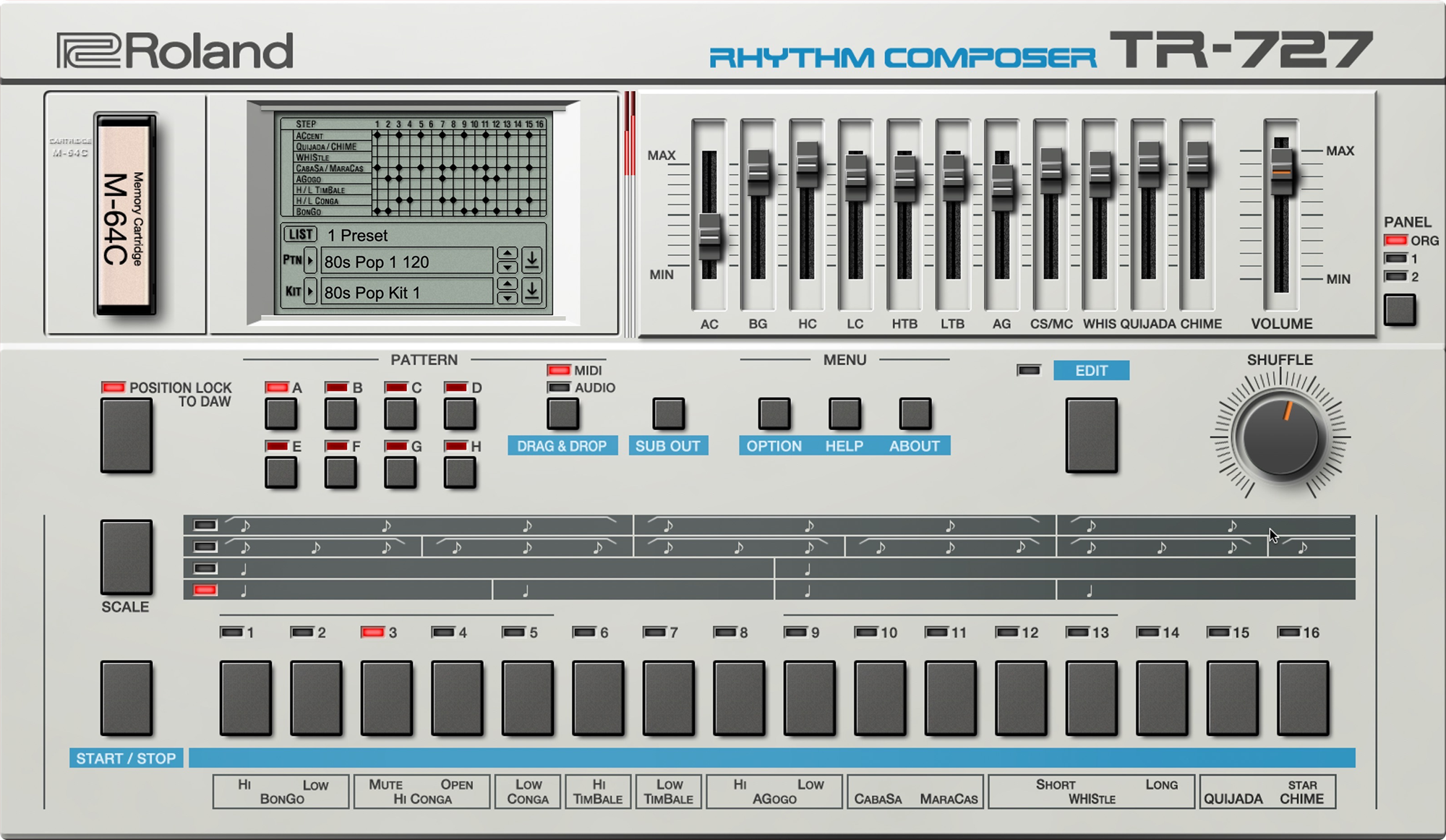 From 1985 straight to your DAW.
The TR-707 and TR-727 Software Rhythm Composers bring the totally authentic experience of using these classic machines direct to your studio. And while they capture the vintage vibe of these instruments, they're thoroughly modern in their support for today's workflow. The detailed user interfaces are fully resizable for any display setup, and you can drag and drop MIDI and audio patterns directly to tracks or cells. Both plugins are VST3, AAX, and AU compatible and have native support for Apple silicon.
Download the TR-707 and TR-727 in Roland Cloud today!
*After September 30th the TR-707 and TR-727 will only be available in Ultimate Membership, with a Lifetime Key purchase, or entitled as one or more of your Pro Access Selector rewards in Pro Membership.