Register your ZEN-Core compatible hardware and receive 46 ZEN-Core Sound Packs and one year of Roland Cloud Pro membership for free. This gives you over 700 additional ZEN-Core sounds in your hardware instruments, desktop DAW, and mobile devices.

What is ZEN-Core?
The ZEN-Core Synthesis System is Roland's most advanced sound engine yet. It encompasses over 40 years of experience and lets you play and share sounds across a range of Roland hardware and software instruments.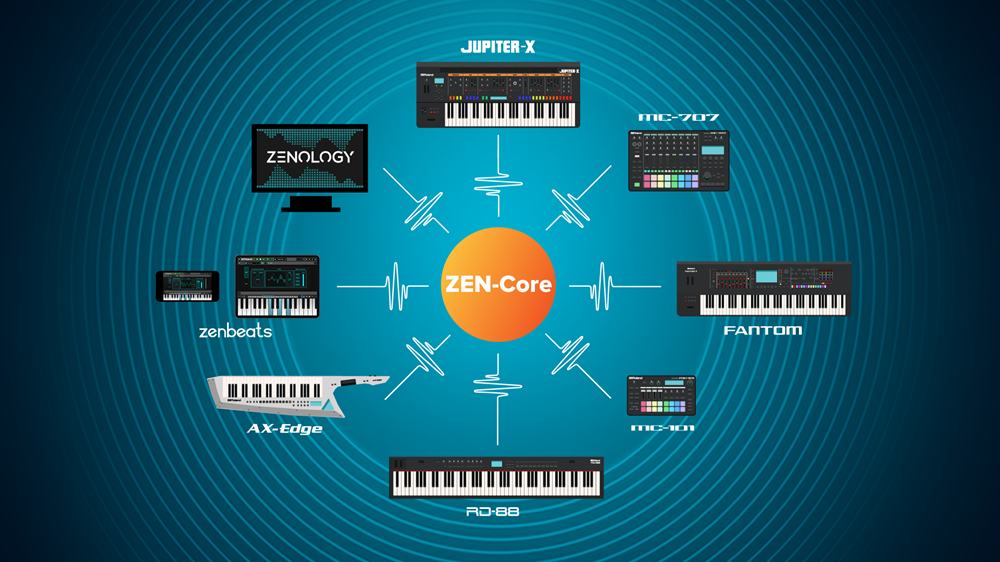 What are ZEN-Core Sound Packs?
Add new tones to your favorite Roland instruments with Roland Cloud. Driven by the powerful ZEN-Core Synthesis System, ZEN-Core Sound Packs deliver up to 16 additional presets to your library, from vintage analog to fresh hybrid tones. Each pack focuses on a specific genre, instrument type, or features sounds from leading artists. That's over 700 carefully crafted ZEN-Core sounds for free.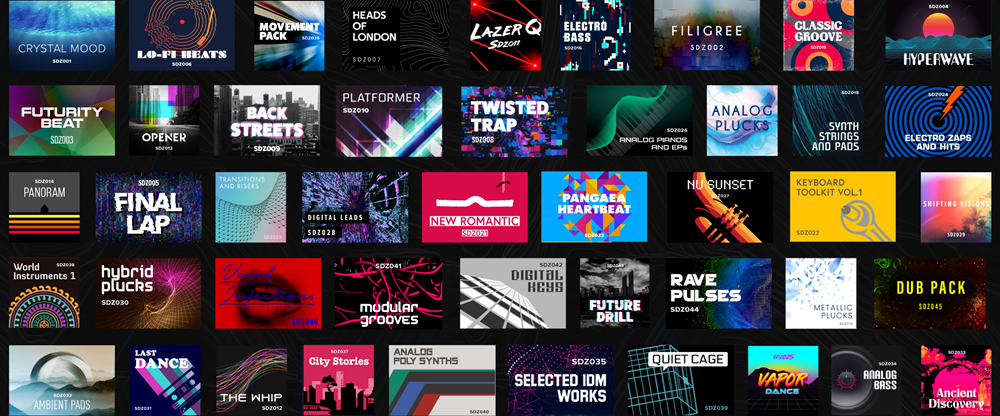 Take your Roland sounds to the limit with ZENOLOGY Pro.
ZENOLOGY Pro works seamlessly with compatible Roland hardware like FANTOM, JUPITER-X, and the MC-707. Use ZENOLOGY Pro to find and edit your ZEN-Core tones, transfer sounds from ZENOLOGY Pro to your hardware instruments or mobile devices, and use the same sounds in your hardware as in your DAW.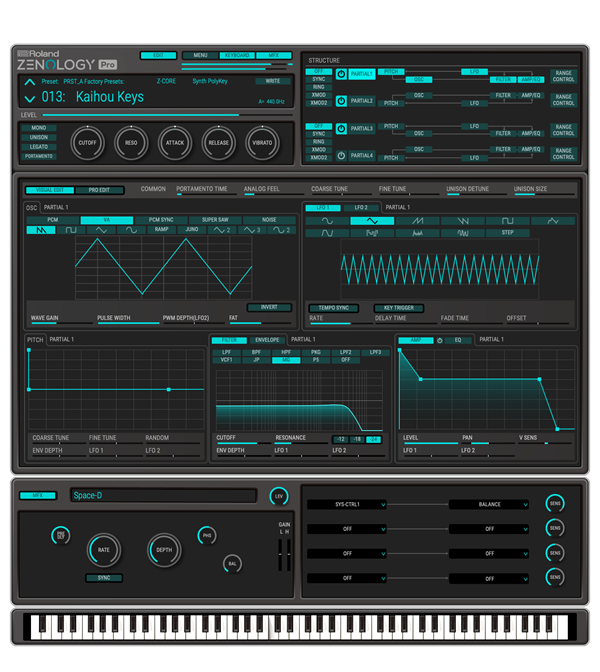 Take ZEN-Core on the go with ZC1 in Zenbeats.
ZC1 is a new mobile-ready synthesizer based on Roland's ZEN-Core Synthesis System. Available in Zenbeats as a free instrument, ZC1 has 60 presets and a sleek touch-based interface. Roland Cloud Pro membership unlocks all platforms and features in Zenbeats including 900 additional preset tones and 90 built-in MFX effects. Share sounds from mobile, to desktop, to hardware with the ZEN-Core Synthesis System.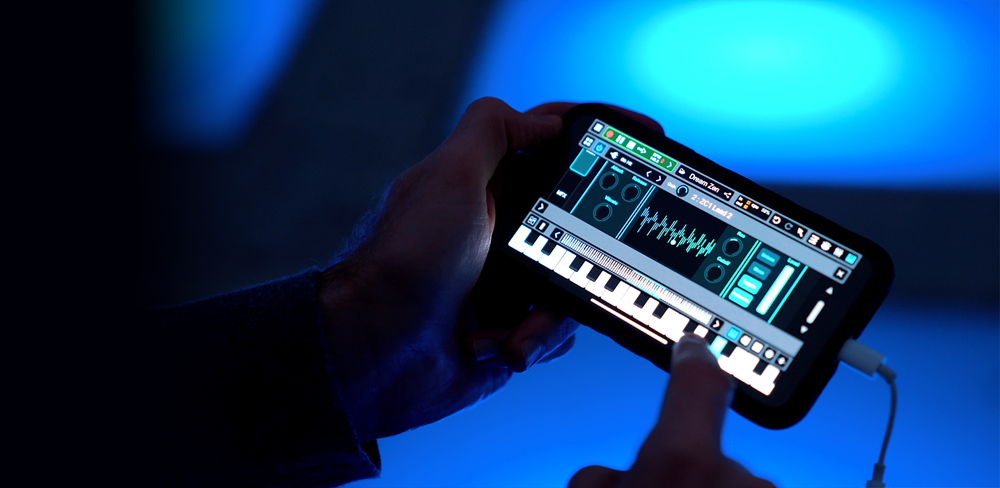 One Year of Pro Membership for Free
Access Legendary software instruments and a huge collection of professionally crafted sounds with one free year of Roland Cloud Pro membership
ZENOLOGY Pro unlocks the full power of ZEN-Core on your computer and lets you edit in software and play on hardware
JUPITER-8, SH-101, JUNO-106, JX-8P Model Expansions—vintage add-ons for ZENOLOGY Pro
Ultimate Unlock for ZENBEATS 2.0 music creation software for all platforms
Play ZEN-Core sounds in the mobile-ready ZC-1 in Zenbeats for iOS and Android
Detailed recreations of the D-50 and TR-808 using our Analog Circuit Behavior modeling
Bite-sized, micro-genre instruments with the Flavr series
Sample based acoustic instruments with Drum Studio and Tera Series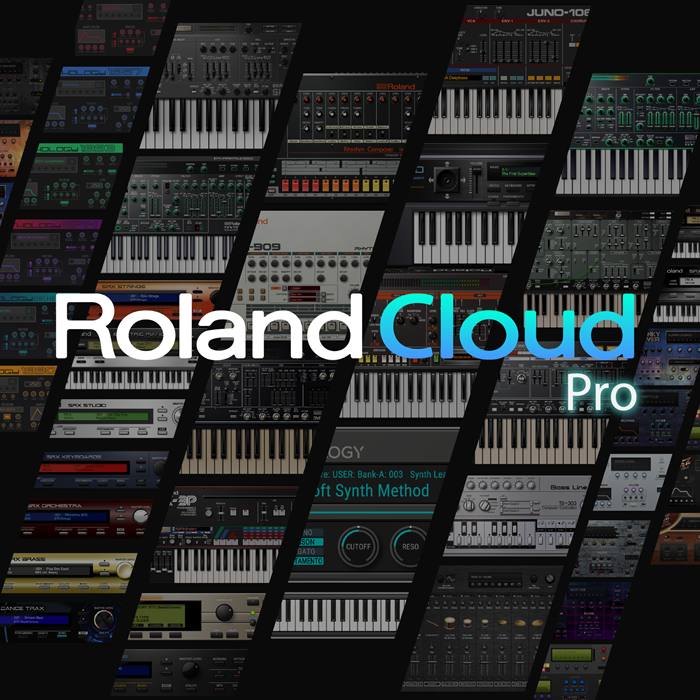 Register to redeem your free sounds and membership.
Go to Roland Backstage HERE
Register your qualified hardware
You'll receive an email with instructions on how redeem the Roland Cloud offer
Promotion ends at midnight PDT March 1st, 2021
Already Registered? No Problem
Go HERE to register your hardware
Enter your Roland Account information
Use your qualified hardware's serial number as your activation key
Once entered, your offer will be activated in your Roland Cloud account
Download Roland Cloud Manager and sign in
From the Library tab in Roland Cloud Manager, install your FREE Sound Packs and Pro membership features
Terms and Conditions: Limit one redemption per customer. A Roland Account is required to register your qualified products. A Roland Account is required to redeem promotion. A Roland Account is required to access Roland Cloud Manager (RCM). RCM must be installed and active on a compatible computer to download your free SDZ Collections and access membership. Any qualified ZEN-Core hardware can be registered to redeem offer. Once your hardware is registered on Back Stage you will receive and email with instructions on how to redeem the offer. There are no restrictions on qualified ZEN-Core hardware purchase dates until March 1st, 2021. Qualified serial numbers are single use and non-transferable. Annual Roland Cloud Pro Membership is non-renewing and optional. If you have already registered your qualified hardware, please go to our Roland Cloud Key Registration Page
https://www.rolandcloud.com/roland-account/key
The serial number of your ZEN-Core Hardware is your activation key. Please follow the prompts to redeem your offer. Limited time promotion. No refunds are eligible for previously purchased Lifetime Keys, Memberships, or sound expansion packs. Please contact customer service for additional details if you have made purchases after October 25, 2020. If you have purchased an annual membership to Core, your annual Pro membership will run concurrent to your existing membership. If you have purchased an annual Pro membership, after October 25th, 2020 please contact customer service. If you have purchased an annual Ultimate membership, after October 25th, 2020 please contact customer service. Offer is not valid in countries and/or territories where Roland Cloud is not available. Qualified ZEN-Core hardware includes: MC-101, MC-707, JUPITER-X, JUPITER-Xm, FANTOM, RD-88, AX-Edge Lifetime Keys for hardware SDZ Sound Packs installed on a qualified ZEN-Core instrument are nontransferable. Please Contact Customer Service for any registration or promotion redemption issues. You receive Lifetime Keys for "hardware formatted" SDZ Sound Packs SDZ001 though SDZ046 with this offer.