Roland has delivered memorable, genre-defining sounds for more than half a century. And a big part of that sonic footprint is our unique approach to effects processing. The swirling JUNO chorus, feedback-drenched tape echo, and other sounds have left their mark on countless tracks over the decades—and with ZENOLOGY FX, you can now add that flavor to any keyboard sound or instrument track right inside your DAW. Check out everything ZENOLOGY FX has to offer for free until March 8th, 2022 – all you need is a Roland Account. Afterward, keep the creativity flowing for less than the price of a single cup of coffee each month with Roland Cloud Core membership.

Desired effects.
With over 90 processors to choose from, there's a wealth of ways to make your synth sounds come alive. Add delays to arps, larger-than-life modulation effects to chord progressions, and twist and distort basses and lead tones that leap from the speakers.

Legendary inspiration.
Many of the effects found in ZENOLOGY FX are inspired by those found in some truly legendary Roland products. The swirling JUNO chorus, CE-1 stompbox, and the JD-800's complex multi-effects section are just a few

Master of modulation.
Modulation effects include choruses, phasers, flangers, and more—and they work wonders on synths and other keyboard instruments. This is how you add movement to synth parts and enhance sounds so they seem to exist outside the bounds of your speakers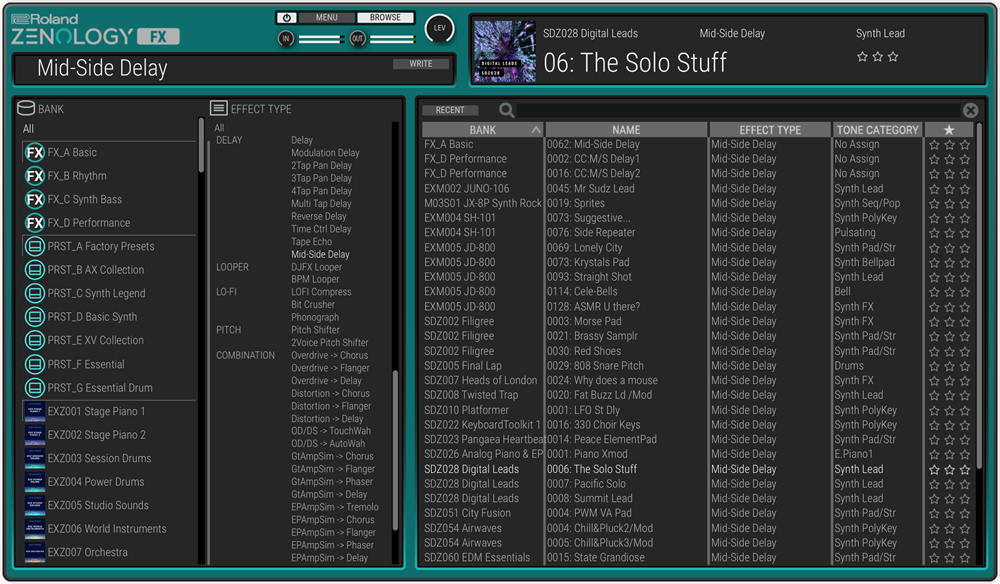 Exotic sonics.
ZENOLOGY FX includes a menagerie of unique Roland effects to propel your tracks into uncharted sonic territory. Explore the DJFX Looper and lo-fi effects from the SP-404, or the layered multi-effects of the famed JD-800 synthesizer. Or color your sounds with slicers, filters, overdrives, and other selections from the vast Roland and BOSS effects legacy.

Thousands of presets.
ZENOLOGY FX gives you access to thousands of custom effect presets optimized for synth and keyboard sounds—so you'll never run out of fresh tones and new inspiration. Dive into the curated selection, or explore a wealth of presets from the growing collection of over 100 Sounds Packs and expansions available with Roland Cloud.

Search party.
The deep browser in ZENOLOGY FX makes it easy to find the perfect sound. Filter by instrument or effect type, search by genre or any other keyword, and rate your favorite sounds for quick access in the heat of a creative moment. Presets load and switch instantly, so you can quickly find just the vibe you're looking for.

Join Roland Cloud and try out ZENOLOGY FX today!